Haylie Zapantis is an artist, dyer, and designer from Richmond, Virginia. She recently resided in Baltimore, Maryland and holds a BFA in Fiber and a concentration in Sustainability and Social Practice from the Maryland Institute College of Art. Zapantis' work encompases a history of darkroom photography and a deep knowledge of textiles. Her current work explores dyeing especially the use of indigo. Her work with indigo has branched into a practice that considers sustainability in textile practice including acid, mx and natural dye techniques. In addition, Zapantis makes costume and clothing design. She worked as a costume designer for MICA's Rival of the West theatre production and designed a fashion line entitled Nasty Women for MICA's 24th annual benefit fashion show.
Zapantis' work is also influenced by social activism to promote knowledge about climate change and women's rights. Projects that she respects and has participated in include the 5.4 million and counting quilt and Helen Mirra's Standard Incomparable. Zapantis' work has been exhibited in Baltimore, MD Richmond, VA. and Pasadena, CA. Zapantis works with local beekeepers studying the relationship between pollinators, dyeing and the textile industry.
Photos by Madison Fairburn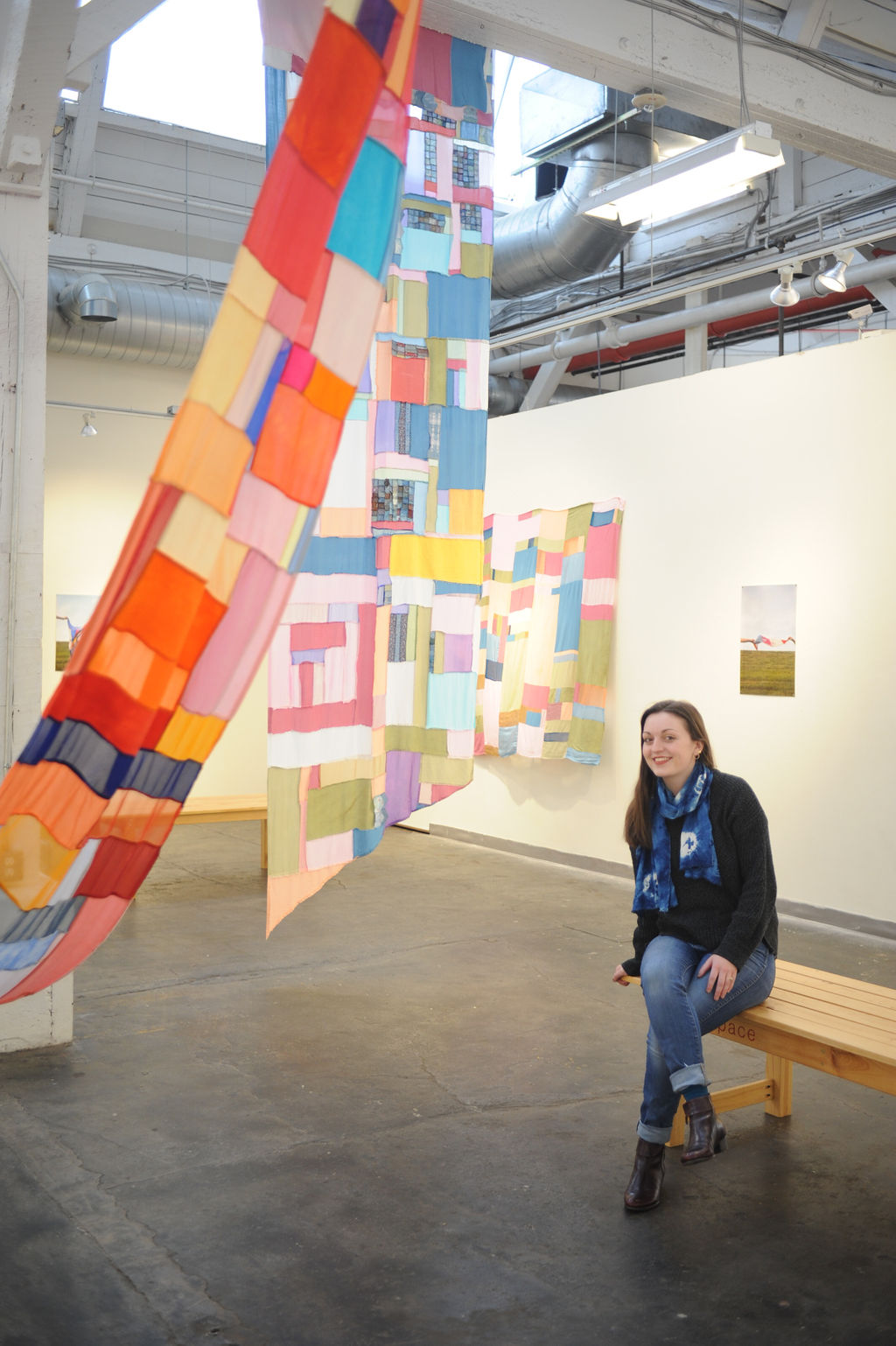 Everything about my mark making process accelerated when I entered the dye kitchen. Smashing petals, foraging dyes, and oxidizing cloth are energetic activities and the source of the excitement in my work. I am compelled by the indelible impressions and the saturation that penetrates a built surface, transforming cloth chemically over time. Chemistry of a colour explores methods of producing color, piecing, seams, and saturation on architecturally scaled clothes. Each of my works are pieced panels ranging from 16-33 vertical feet. These works allow viewers to walk around all sides of them, interacting with the intimacy of the resists, stitching, and colors of each work. Air circulation and changing light creates an environment conducive to the subtle movement of fabric. The large scale of the cloths relative to the intimate marks and color moves demand a work process that is both macro and micro in perspective. This range is the requisite perspective for building a humane and sustainable world.